AI
Machine learning

Bootcamp
Metana's AI/ML bootcamp is an intensive training program designed to provide participants with the skills and knowledge they need to succeed in the field of artificial intelligence and machine learning. The program covers a range of topics and includes a job guarantee for all participants. Whether you're looking to gain expertise in AI and ML or transition into a new career, Metana's bootcamp is a great opportunity to gain the skills and knowledge you need to succeed.
2 weeks no questions asked refund policy | Get hired – or your money back, guaranteed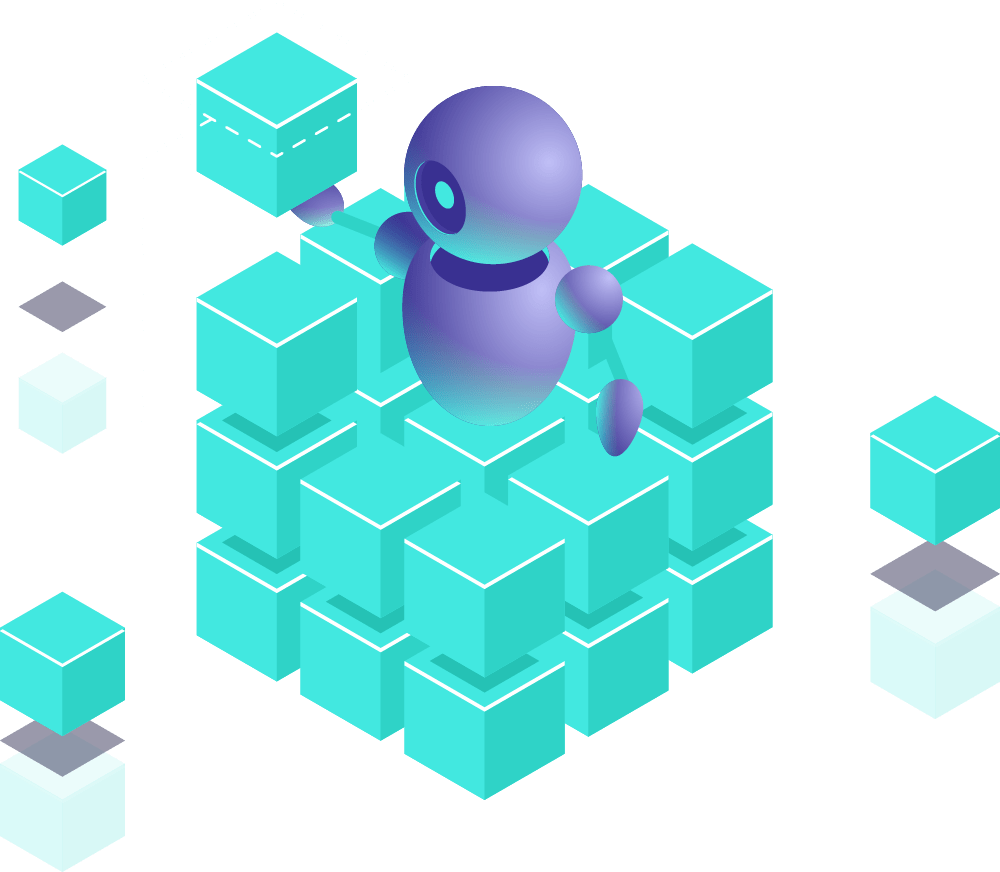 Metana is a highly respected and successful Web3 bootcamp, with a track record of producing graduates who are well-prepared for success in the professional world. Their foundational teaching method and JobCamp™️ program provide students with the skills and support they need to thrive in their first job and beyond. Now, with the addition of their AI/ML bootcamp, Metana is expanding their offerings to include training in the fast-growing field of artificial intelligence and machine learning. This new bootcamp is sure to be a great opportunity for aspiring professionals looking to gain expertise in these in-demand skills.
There are a wide range of roles and salaries in the artificial intelligence (AI) and machine learning (ML) field, as these technologies are being applied in a variety of industries and sectors. Some common roles in the AI and ML field include:
Data Scientist: Data scientists are responsible for collecting, analyzing, and interpreting data, and using that data to build and optimize machine learning models. Data scientists typically have a strong background in mathematics, statistics, and computer science, and are skilled in programming languages such as Python and R. The average salary for a data scientist is $120,000 per year.

Machine Learning Engineer: Machine learning engineers are responsible for designing and implementing machine learning systems and applications. They work closely with data scientists to develop models and algorithms, and are skilled in programming languages such as Python and Java. The average salary for a machine learning engineer is $141,000 per year.

AI Research Scientist: AI research scientists are responsible for conducting research on artificial intelligence and machine learning technologies, and developing new methods and approaches to these technologies. They typically have a strong background in mathematics and computer science, and are skilled in programming languages such as Python and C++. The average salary for an AI research scientist is $121,000 per year.

AI Product Manager: AI product managers are responsible for managing the development and rollout of AI products and services. They work closely with cross-functional teams to understand customer needs and develop strategies for bringing AI products to market. The average salary for an AI product manager is $123,000 per year.

AI/ML Consultant: AI/ML consultants work with organizations to help them understand and implement artificial intelligence and machine learning technologies. They typically have a strong background in these technologies and are skilled in programming languages such as Python and R. The average salary for an AI/ML consultant is $112,000 per year.
It's worth noting that these are just a few examples of the many roles and salaries in the AI and ML field, and that actual salaries may vary widely depending on factors such as location, industry, and level of experience.
We offer three options to get your course and career change started. All plans include a full refund policy if you do not get a job after graduating.
This investment includes a full year of access to our AI/ML course material. Additionally, the course offers live events, AMA sessions, personalized support from the instructor, and a certificate of completion for those who complete the course.
You can pay your tuition via card, bank transfers, or with crypto.
Tuition for our AI/ML bootcamp is $6,000
Paying upfront Discount – $500
Non-Job-guarantee discount – $1,000 (If you choose to not have the job guarantee, you get an additional $1,000 discount) 
| | |
| --- | --- |
|   | Payment |
| Pay Upfront | $5,500.00 |
| Monthly installments | |
| Pay after you get hired (US Students only)* | $1,500 Upfront & Pay the rest after you get hired |
* Credit check & Pre-approval required
**Tuition will increase to $7,980 for all cohorts in April 2023. To lock in the current tuition rate, pay your tuition in full or the first month's installment and enroll in a cohort that begins in 2023. You're eligible for a 100% refund till 2 weeks after starting the cohort.
We have monthly cohorts. You can always choose to pause the program and resume where you left off if it's too fast-paced for you or if life gets in the way. There is no financial cost associated with this. We want you to succeed and won't make you follow a schedule that doesn't suit you.
| | |
| --- | --- |
| January Cohort | 23 January 2023 |
Week 1: Introduction to AI and ML
Overview of AI and ML
Types of AI and ML
Applications of AI and ML
Week 2: Data Preprocessing and Exploration
Data cleaning and preparation
Data exploration and visualization
Week 3: Linear Regression
Introduction to linear regression
Simple linear regression
Multiple linear regression
Week 4: Logistic Regression
Introduction to logistic regression
Binary logistic regression
Multinomial logistic regression
Week 5: Decision Trees
Introduction to decision trees
Classification and regression trees
Random forests
Week 6: Clustering
Introduction to clustering
K-means clustering
Hierarchical clustering
Week 7: Dimensionality Reduction
Introduction to dimensionality reduction
Principal component analysis (PCA)
Linear discriminant analysis (LDA)
Week 8: Neural Networks
Introduction to neural networks
Feedforward neural networks
Activation functions
Week 9: Convolutional Neural Networks
Introduction to convolutional neural networks (CNNs)
Convolutional layers
Pooling layers
Week 10: Recurrent Neural Networks
Introduction to recurrent neural networks (RNNs)
Long short-term memory (LSTM) networks
Gated recurrent unit (GRU) networks
Week 11: Generative Adversarial Networks
Introduction to generative adversarial networks (GANs)
Generator and discriminator networks
Training GANs
Week 12: Transfer Learning
Introduction to transfer learning
Fine-tuning pre-trained models
Using pre-trained models as feature extractors
Week 13: Natural Language Processing
Introduction to natural language processing (NLP)
Tokenization and preprocessing
Sentiment analysis
Week 14: Deep Reinforcement Learning
Introduction to deep reinforcement learning
Q-learning
Policy gradients
Week 15: Ethics and Responsible AI
Ethics in AI and ML
Fairness, bias, and transparency
Responsible AI practices
Week 16: Capstone Project
Work on a final project using the skills and knowledge learned in the bootcamp
Present the project to instructors and classmates
Admission Policy and Process
You have to prove your seriousness in learning and then only you are admitted to our bootcamp. This makes our admission policy as unique as our Bootcamp.
Only programmers with at least a year of professional experience will be considered. You must be proficient in English.

The coding test result you receive will be the most important component of your application.

Past achievements. We want to see that you have the perseverance to work at something until you master it.

It will be beneficial to have some prior knowledge of blockchain programming. Although prior knowledge is not required, our curriculum is fairly fast-paced, so having a head start will help you succeed and show us that you are committed to the subject.
After you submit your application & schedule an interview call with one of our student admissions officers, You will receive an email with a link to a coding test. (Dates are available within 3-7 days from the application date)

You need to complete the coding test within 3 days.

Send us an email if you need more time (info@metana.io)

Your application will be rejected if your score falls short of a predetermined level. Because we need to compare your application to those of the other applicants for the upcoming cohorts, we can't always make a decision right away.

We limit cohorts to 10 students per month to ensure maximally effective learning outcomes. If you have a great application but didn't quite make it in, we will offer to waitlist you for the upcoming month.
Career Success - Metana's JobCamp™️
Our career success team gives our students the professional skills they need for their first job and every job after. Knowing how to get a job is critical, which is why our Career Success team helps you graduate ready for the job search. And even after you graduate, our team is available to keep you motivated, prepare you for interviews, and even help you negotiate offers.
Build a Technical Resume
Optimize Your LinkedIn Profile
Network within the Industry
Prepare for Behavioral Interviews
Stay Motivated on the Job Search
Craft Cover Letters
Communicate with Recruiters
Make a brilliant first impression. LinkedIn, GitHub and Resume templates and guidance.
Learn to build connections, how to look for jobs, and explore starting as a freelance.
Learn about both the technical and non-technical parts of an interview. How to prepare effectively.
Learn common data structures and algorithms, and describe them during a whiteboard interview. Practice coding techniques for take home assignments.
Apply for
Machine learning Bootcamp.
Secure your spot now. Spots are limited, and we accept qualified applicants on a first come, first served basis..
What is included in the course price?
Get hired 🤩 – or your money back, guaranteed. 💯
Get hired 🤩 – or your money back, guaranteed. 💯
Get hired 🤩 – or your money back, guaranteed. 💯
Get hired 🤩 – or your money back, guaranteed. 💯