If you're wondering why there are two coins with the same name, as I did, you should know that Ethereum classic was created from Ethereum after the big fork.
The use of Ethereum has continued this year despite the collapse of the cryptocurrency market. The NFT market has been abnormally rising since the crypto market crisis, and since the majority of NFTs, are bought on Ethereum they have been able to keep afloat.
WHAT EXACTLY IS THE BIG FORK ?
The Ethereum blockchain was first developed as a single blockchain in 2015, however in June 2016, a hack on the Ethereum blockchain led to the theft of $60 million in cryptocurrency. Consequently, a big fork was carried out to ensure the network, which is how the new Ethereum called Ethereum classic came to be.
WHAT IS ETHEREUM ?
Ethereum.org made reference to this ""Ethereum is open access to digital money and data-friendly services for everyone – no matter your background or location. It's a community-built technology behind the cryptocurrency ether (ETH) and thousands of applications you can use today."
Ethereum is utilized as a global payment system, a digital money, and so on. The NFT market hasn't been as negatively impacted by the year's meltdown as the crypto market. Ethereum has been the most popular crypto currency for buying NFT. As a result, Ethereum has managed to maintain second place among crypto currencies despite the crypto market slump.
Additionally decentralized, Ethereum is accessible to everyone at any time as long as they have access to the internet. Since Ethereum's defi system operates around the clock, you can earn, sell, transfer, borrow, and receive money at any time from anywhere in the world.
Ethereum is also safe and secure because you simply need to use a wallet and won't have to give out any of your personal information, unlike other online platforms where you'll have to give up control of your personal information.
WHAT IS ETHEREUM CLASSIC ?
Another open source blockchain that emerged from the 2016 Ethereum breach is Ethereum Classic. All of the money that were taken were returned as a result of the big fork.
Unlike Ethereum, the supply of Ethereum classic is limited 210,700,000 coins. The "Code is law" principle, which is defined as a type of regulation in which technology is utilized to enforce preexisting laws, is the core goal of Ethereum Classic. They are currently observing a new trend where technology is steadily gaining the upper hand over these rules due to the introduction of Blockchain and Machine Learning.
ETHEREUM VS ETHEREUM CLASSIC: The Differences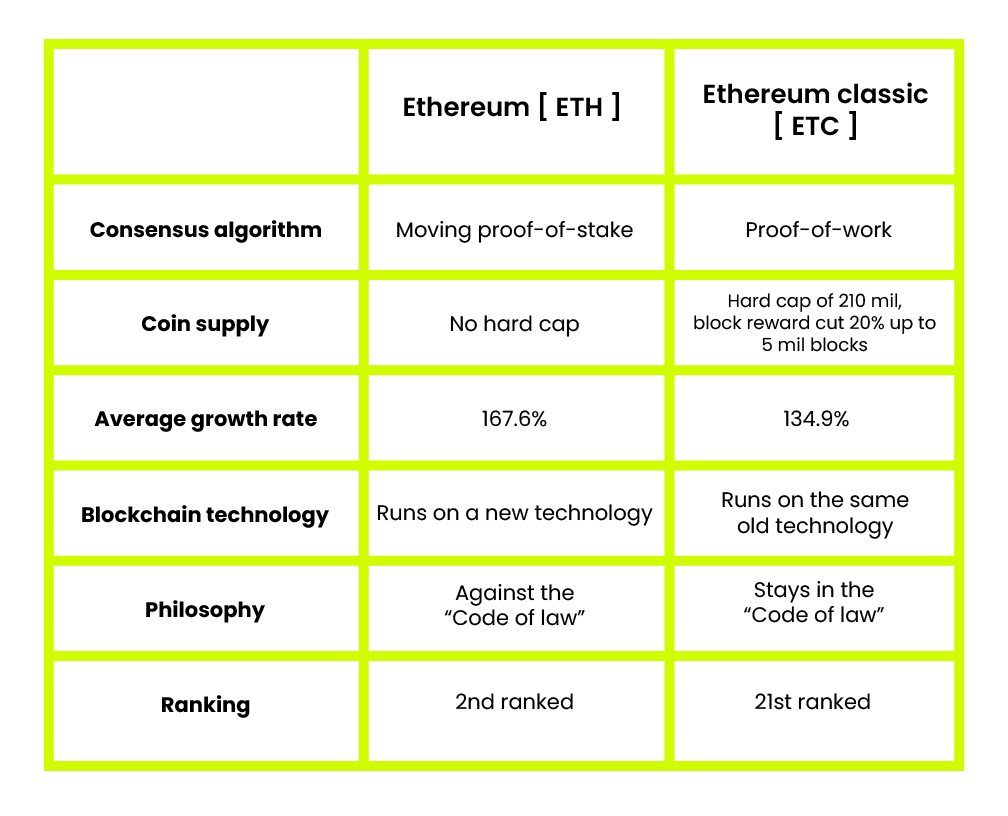 WILL ETHEREUM CLASSIC SURVIVE?
Yes, the cryptocurrency market has caused all currencies to fall, not only Ethereum and Ethereum Classic, but every other cryptocurrency as well but throughout the month of August, these two have been on the rise.
Ethereum will be more used and trusted than Ethereum classic, but that doesn't mean that Ethereum classic will collapse. Even after the big fork back in 2016, people still trusted Ethereum more than Ethereum classic.
Finally, it should be noted that neither Ethereum nor Ethereum Classic will vanish any time soon, but Ethereum will gain popularity and expand due to the NFT market and the proof of stake mechanism.