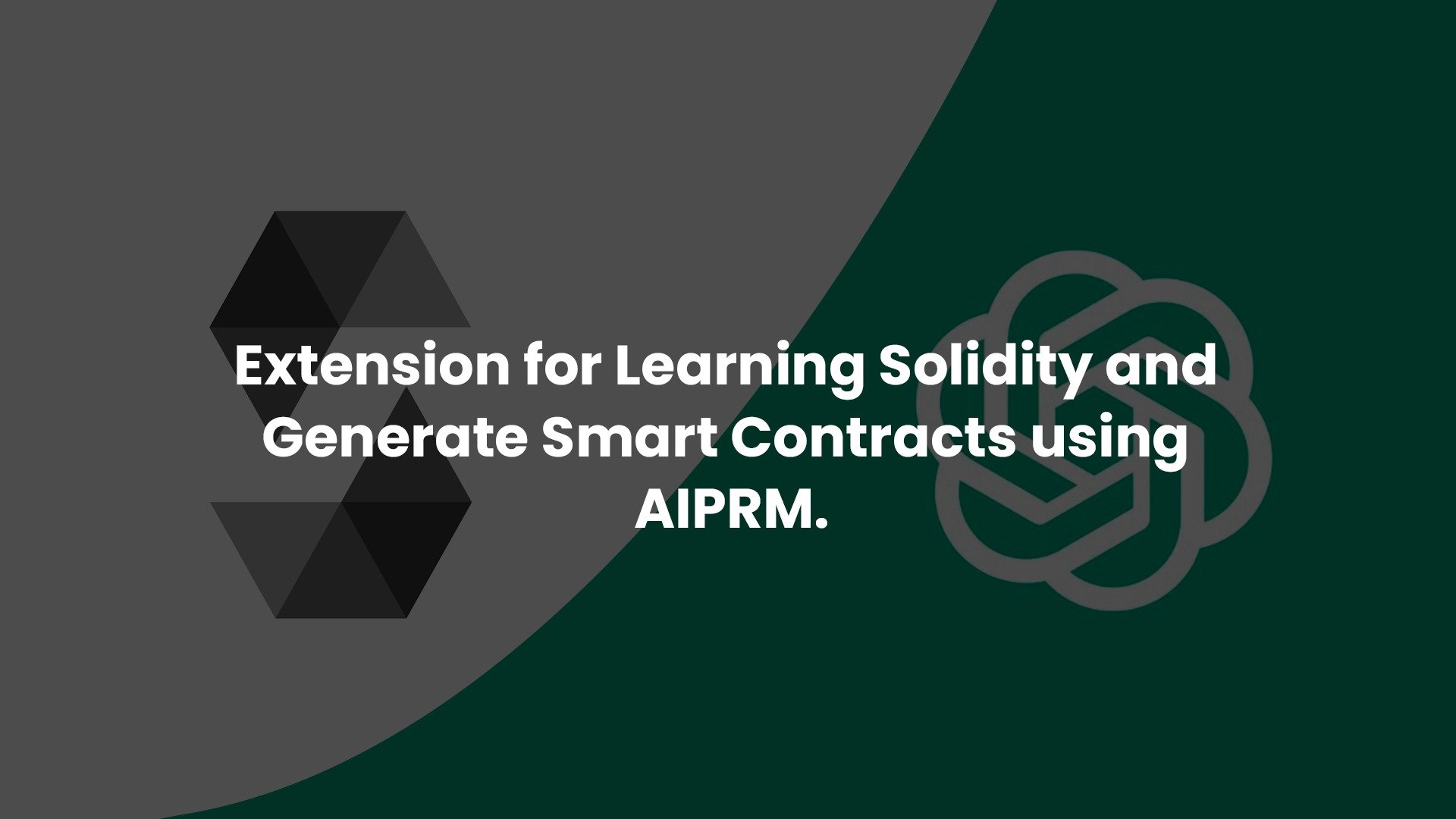 ChatGPT x Solidity x AIPRM: Extension for Learning Solidity and Generate Smart Contracts.
Cryptocurrency and blockchain technology have been steadily gaining popularity in recent years, and as a result, there has been an increased demand for developers with expertise in blockchain programming languages like Solidity. However, learning Solidity and creating smart contracts can be a challenging task, especially for beginners. In this article, we will explore a powerful Chromium extension that can help users learn Solidity and easily generate smart contracts.
What is Solidity?
Solidity is a programming language used to write smart contracts on the Ethereum blockchain. It is a high-level language that is similar to JavaScript and is designed to be both human-readable and easily executable by the Ethereum Virtual Machine (EVM). Solidity is an essential language for developers who want to create decentralized applications (dApps) on the Ethereum network.
Introducing AIPRM Extension for ChatGPT
AIPRM is a new tool that adds a list of curated prompt templates to ChatGPT, the large language model trained by OpenAI. These prompts are specifically designed to help with SEO, SaaS, and other needs, and are written by experts in their respective fields. AIPRM also includes a range of premium features such as "Favorites," "Hide Prompts," and "Custom Prompt Lists" to make it easier for users to customize their experience. Additionally, users can adjust ChatGPT's responses with "Custom Writing Tones," "Custom Writing Styles," and "Custom Power Continue." With many free features available, AIPRM is a promising addition to ChatGPT.
Our team recently utilized a powerful new extension to create a custom prompt template called "Solidity Learning Assistant" which will be invaluable for developers looking to learn Solidity. By using this extension, we were able to create a prompt template that is tailored specifically to the needs of Solidity learners. This will make it much easier for developers to get started with Solidity and accelerate their learning process. With the help of this extension, we're excited to see more developers entering the world of blockchain and contributing to this rapidly evolving field.
Features of the Solidity Learning Assistant
The Chromium extension comes with a range of powerful features that can help users learn Solidity and create smart contracts. These include:
1. Solidity Syntax
Can answer your questions and doubts related to Solidity syntax
2. Smart Contract Generator
This tool could write you smart contracts but if you don't have any prior knowledge in writing smart contracts we suggest not use this, also this tool is more optimized for learning assistance.
3. Solidity Mentor
You can ask this to teach you about topics such as gas optimizations, security even roadmap to learn, basically a virtual mentor.
Getting Started with AIPRM
To start using AIPRM, simply download the extension from the Chrome Web Store or visit aiprm.com and install it in your browser. The extension is pretty easy to use. if you are confused you can check out this video https://www.youtube.com/watch?v=woV4zJUobcc
After installation, go to this link https://app.aiprm.com/prompts/1803073035658588160 to access our learning assistant or simply search for it
Conclusion
In conclusion, the AIPRM extension and learning assistant prompt we have discussed in this article are powerful tools for learning Solidity and generating smart contracts. With its user-friendly interface and powerful features, this extension can help users of all skill levels improve their Solidity programming skills.
FAQs
Is this tool free to use?

Yes, the Chromium extension is completely free to use.

Can the Chromium extension generate smart contracts?

Yes, but not recommended. This tool is more optimized for learning not generating smart contracts.

Is the Chromium extension suitable for beginners?

Yes, this is made for beginners who want to learn solidity.