340000 USD.
Pretty big number right?
It might be an eye-watering amount for some of us. However, according to the fine folks at Web3.careers, this the maximum annual salary of a Blockchain developer based in North America.
This is why you should become a blockchain developer. But let us provide you with more interesting information.
If you're a digital nomad(and you like working from exotic locations all day), and you manage to snag a remote-based, blockchain development job, then chances are that you will receive a maximum annual salary of 750000 USD
Our friends at GeeksforGeeks had this to say about the possible reasons for such high compensation in the Web3 space.
"This is partially because of the rise in the trend of cryptocurrencies in the market.
However, the primary cause for flooding in opportunities for blockchain development is taking charge due to the adaptation of different sectors in blockchain technology and so its demand is rapidly increasing month by month.
By the end of 2022, it is believed to have a market capture of approximately USD 8 billion."
Regions other than North America also provide Blockchain Developers with competitive salaries, as evidenced by the table below: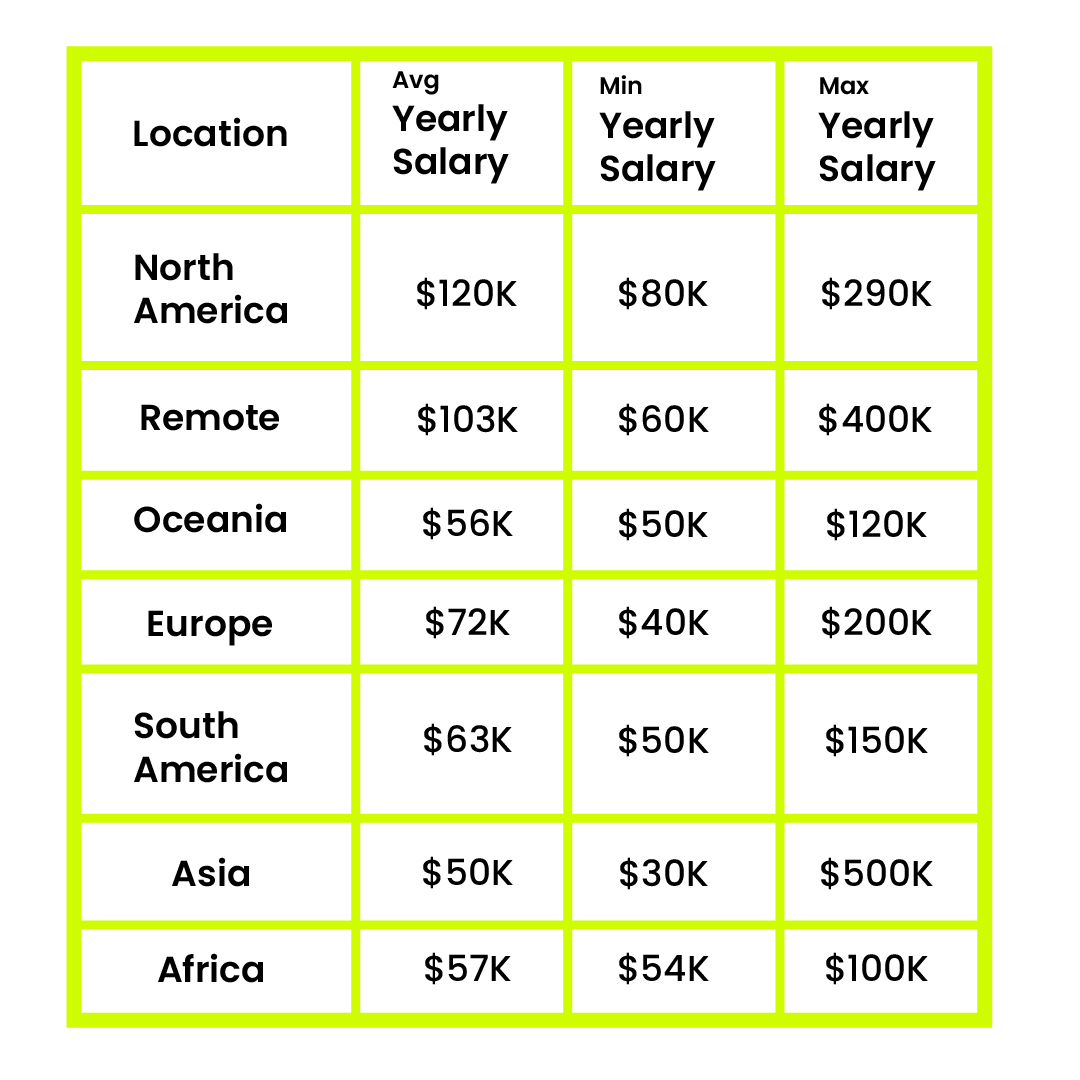 Popular companies like InterOpera, which are focused on building Web 3.0 infrastructure to maximise the potential of the digital world, are on a-at the time of this writing-hiring spree.
https://web3.career/senior-blockchain-devops-engineer-interopera-1/31284
https://web3.career/senior-blockchain-engineer-interopera/30783
This includes job posting like Senior Blockchain DevOps Engineer(Based in Singapore; paid annually 122000 USD) and Senior Blockchain Engineer(Based in Singapore; paid annually 160000 USD).
If you're worried about the scope of one's role within the Web3 space, fear not, as there is always a part for everyone to play. This is because the market trend for blockchain has been consistently changing since its inception and with the way, the market has responded and the capital has boomed, it is expected to grow at an exponential rate in the coming years.
This essentially means that as a Blockchain Developer if you want to move onto a different aspect, then there are plenty of Blockchain-centric companies, who are hiring in such terms.
This includes:
The Nervos Network, which is making Blockchain application universal.
https://cryptocurrencyjobs.co/sales/nervos-network-senior-web3-gaming-business-development-manager/
Blockchain Web3 Game Developer & Educator at Nervos Network – Cryptocurrency Jobs
They are hiring Blockchain-oriented developers to build Web3 game projects, and ultimately push the standards of gaming.
In case you're wondering, it's not just startups that are initiating headway into the Web3 industry. The Silicon Valley success story Twitter has started an exciting project called BlueSky.
They have an exciting mission to develop and drive the adoption of technologies for open and decentralized public conversation. They're creating a social networking ecosystem where users have a choice in their experience, creators have control over relationships with their audiences, and developers have the freedom to build.
You want to know the best part? They're currently hiring too!
They have open positions for Protocol Engineer and Business Operations right now, and as the project grows out of it's infancy, the scope of the roles available will increase too.
Other roles for which Blockchain-centric companies are hiring include:
Cryptocurrency Analyst
Cryptocurrency Developer
System Engineer
Solution Architect
Project Manager
UX Designer
At this point, If you're a Web2 developer, you might be wondering how effectively you can make a transition to become a Blockchain developer.
You might have already tried out free courses on platforms like YouTube, following which courses on Udemy would have been your next bet. However, you must have felt there were issues like outdated course material, or less material coverage.
At the same time, it's not a walk in the park to land an interview in a Blockchain company; much less a job. So you want career guidance, which is an entirely different service.
Or is it?
At metana, we give you a comprehensive guide to Web3, and at the same time we guarantee a job in this space, complete with sufficient career guidance to build your career in this complex industry.
See you soon at metana!
Why become a blockchain developer? The pay is high and the tech is interesting
Here are some interesting topics to read.